Follow THE PEKING ACROBATS on





For the last 30 years, THE PEKING ACROBATS® have redefined audience perceptions of Chinese acrobatics. They perform daring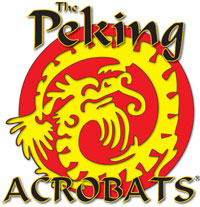 maneuvers atop a precarious pagoda of chairs; they are experts at trick-cycling, precision tumbling, somersaulting, and gymnastics. They defy gravity with amazing displays of contortion, flexibility, and control. They push the envelope of human possibility with astonishing juggling dexterity and incredible balancing feats, showcasing tremendous skill and ability. They are masters of agility and grace. Often accompanied by live musicians skillfully playing traditional Chinese instruments and high-tech special effects that coalesce with the music and awe-inspiring feats to create an exuberant entertainment event featuring all the excitement and festive pageantry of a Chinese Carnival! With their 2016 North American Tour, THE PEKING ACROBATS celebrate 30 years of awesome entertainment with their fans, young and old, in the Year of the Monkey!

THE PEKING ACROBATS have been featured on numerous television shows and celebrity-studded TV Specials including NICKELODEON'S UNFABULOUS,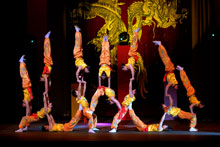 (Photo by: Brittany App)

ELLEN'S REALLY BIG SHOW (TV Special with host, Ellen DeGeneres), THE WAYNE BRADY SHOW, THAT'S INCREDIBLE, ABC'S WIDE WORLD OF SPORTS as well as NBC's RING IN THE NEW YEAR HOLIDAY SPECIAL. THE PEKING ACROBATS are on the cutting edge of technology, having appeared on HDNET TV'S IN FOCUS SERIES. Since Summer 2011, they have appeared regularly in 3D on NBC/Comcast's new 3D Channel! THE PEKING ACROBATS are excited and honored to have been selected by HDNet and NBC/Comcast to be among the first performing ensembles of their kind to participate in such innovative technologies as the high definition and 3D television formats. These appearances reaffirm THE PEKING ACROBATS commitment to bringing their unique and ancient art form and tradition into the 21st Century! Please see our Film & Television Page on this website to find out more.

They set the world record for the Human Chair Stack on Fox's GUINNESS BOOK PRIMETIME TV show where they astounded audiences with their bravery and dexterity as they balanced six people precariously atop six chairs 21 feet up in the air without safety lines! THE PEKING ACROBATS are also making the scene on the silver screen as Company members were featured in Steven Soderbergh's hit film Ocean's 11 playing along with Hollywood's elite such as Julia Roberts, Brad Pitt and George Clooney. PEKING ACROBATS' alumnus Shaobo Qin also appeared in that film's two sequels, Ocean's 12 and Ocean's 13. THE PEKING ACROBATS perform often on Television and in Films. As mentioned above, THE PEKING ACROBATS were recently filmed by Center City Film & Television in 3D for NBC/Comcast's New 3D Television Channel. In cooperation with Center City Film & Television, this ALL-NEW entertainment package from THE PEKING ACROBATS is NOW AVAILABLE FOR PURCHASE! The DVD can be viewed in BOTH 3D and 2D on ANY DVD Player! Please see the box at right on how to order this exciting DVD TODAY!

THE PEKING ACROBATS 25th Silver Anniversary DVD is also still available to consumers, and offers a different view of the show, from their new 3D Version. Filmed in High Definition on their 25th Silver Anniversary Tour in 2011, this thrilling Commemorative DVD is a must-have for fans of THE PEKING ACROBATS' unique artistry. All of THE PEKING ACROBATS DVD's are currently available for purchase by the public at their performances and on the internet at www.iaipresentations.com or www.chineseacrobats.com. Fans can also order by calling IAI Presentations toll free at the number at right, in THE PEKING ACROBATS DVD section on this page.

THE PEKING ACROBATS recently made their debut at the Hollywood Bowl. They performed as part of the Hollywood Bowl's Fireworks Season Finale.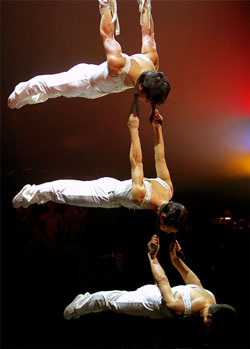 (Photo by: James Thompson,

The Rock River Times)

Please see our SYMPHONY CONCERTS page for the more information on THE PEKING ACROBATS Symphony Concert experience!


In February of 2005, THE PEKING ACROBATS premiered in Italy where they astounded Italian audiences with their incredible talents. This five-week, twelve-city tour took them to Milan, Pisa, Bologna, Naples and many other fascinating and exciting cities in Italy. The performers endeared themselves to the Italian audiences where they performed stellar shows to sell-out crowds. Their opening in Milan was a spectacular media event that was covered nationally by the Italian press. All of Italy knew that THE PEKING ACROBATS had come to entertain the Italian people with their unique artistry! In city after city, the reviews were filled with accolades attesting to their superb performances - THE PEKING ACROBATS were the toast of every city they visited! Here, again, is another triumph for THE PEKING ACROBATS as they share their incredible talents, abilities, and culture with an entirely new audience. The warmth and appreciation of the Italian people made THE PEKING ACROBATS feel right at home. Since their Italian debut, THE PEKING ACROBATS have played seven European countries on their six European Tours between 2005 and today. They have performed for international audiences in Belgium, Switzerland, Portugal, and the Netherlands. They look forward to many more such tours as they bring their ancient artistry to ever-widening audiences. Please see our INTERNATIONAL page for more information on our World-Wide Theatre Tours.

The ability to perform the astounding is rooted in centuries of Chinese history and folk art.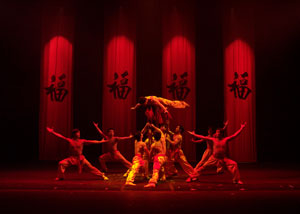 (Photo by: Brittany App)

Records of acrobatic acts can be found as early as the Ch'in Dynasty (221 B.C. - 207 B.C.) and Chinese acrobats through the ages have continued to perfect what has become an evolving folk art form. Tradition demands that each generation of acrobats add its own improvements and embellishments. Because of the unusual and difficult nature of the feats involved, high honor is conferred upon those skilled enough to become acrobats; an acrobat can be considered the Chinese equivalent of an American opera star. It is telling that the Chinese acrobatic tradition just gets stronger, due to the continued innovation of the artists and the endless enthusiasm from their adoring public.

A performance by THE PEKING ACROBATS, therefore, brings with it the opportunity to view the epitome of a rich and ancient folk art tradition, highlighted by today's technology melding the ancient and traditional with the modern wonders of the 21st Century. As the Seattle Times reports: "Nearly everything THE PEKING ACROBATS did last night was amazing - and stunning, and breathtaking and WOW!" and Clive Davis of the New York Post sums it up thusly: "THE PEKING ACROBATS [are] pushing the envelope of human possibility. Pure artistry!" So, join us as we embark on THE PEKING ACROBATS Gala 30th Anniversary Tour and our Year of the Monkey Celebrations!



More InformationFor further information and inquiries on our attractions, contact IAI at:
don@iaipresentations.com
cynthia@iaipresentations.com

For more information regarding tour scheduling contact our theatrical booking agents, IMG Artists, Mr. Dean Schultz at (212) 994-3533 and by e-mail at dshultz@imgartists.com .


The Peking Acrobats DVD's
Call 1-800-424-3454 TODAY to order these thrilling DVD's! Don't miss out on our ALL NEW 3-D DVD! See below for more information!

| | |
| --- | --- |
| | |
| Commemorative 25th Anniversary DVD...A MUST HAVE for all Peking Acrobats Fans! | ALL NEW 3-D DVD, plays in ANY DVD PLAYER & ON ANY TV...FREE 3-D glasses included! |

Only $20.00 Each, including Shipping & Handling!

These exciting, full-length DVD's, are the gift you and your family will enjoy over and over again...together! The 25th Anniversary DVD captures all the excitement of THE PEKING ACROBATS in 2-D. The ALL NEW, 3-D DVD can be viewed in 2-D AND 3-D, no special equipment is required to watch this very special NEW video! Beautifully recorded digital video and High Definition Surround Sound on both videos highlight THE PEKING ACROBATS as you have never seen them before!

Call 1-800-424-3454 to place your order TODAY! Visa and Mastercard cheerfully accepted!





Download Videos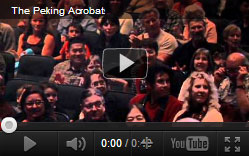 To download video - right click on a format below and use "save link as" or "save target as".





Client Resources

The materials above are subject to change. Please check back often for the most current information.

Reviews Below are only samplings of THE PEKING ACROBATS ® fabulous reviews from their many years of extensive touring. These reviews say it all, and with virtually every word of these glowing articles quotable, here are only a few highlights:

"The things these kids can do before breakfast seem to push the envelope of human possibility. If daring and dexterity turn you on, this is a show that will probably twist you around in your seat. It's amazing and exciting!"


~ New York Post



"It's like watching 'Crouching Tiger, Hidden Dragon' LIVE, without camera tricks creating special effects. All 26 members of this troupe are amazing athletes with grace and charisma in addition to their razor-sharp precision-everything entertainment should be!"


~ Dance Insider



"Amazing! Zounds! The vocabulary of exclamation seeks expression as the medium of awed and surprised reaction to the wondrous feats of THE PEKING ACROBATS! In their graceful efforts these brightly costumed tumblers, acrobats, cyclists, jugglers and clever clowns provide 90 minutes of family fun that infuses springtime in New York with an extra measure of joy."


~ New York Times



"This performance with the Edmonton Symphony Orchestra featuring the internationally acclaimed PEKING ACROBATS was nothing short of mind-blowing and unbelievably unforgettable!"


~ Press Plus 1, Canada



"Tumblers, contortionists, jugglers…OH MY! The Winnipeg Symphony Orchestra wrapped up its Pops series with a show of dazzling athleticism and jaw-dropping beauty Friday night, courtesy of world-renowned PEKING ACROBATS! "


~ Winnipeg Free Press, Canada



"THE PEKING ACROBATS dazzled…nothing short of spectacular, a potpourri of visual delight! Pure, clean, and raw, in what was two hours of standing ovation family fun for kids of all ages! This was ART in its purest form, against a backdrop of beautiful yet simply Asian-influenced scenery. Close your eyes and listen to the beautiful and mellow live musicians that accompanied our athletes, and you were miles away…just outside Peking!"


~ ~ Did You Weekend? Blog, Schenectady, NY



"...At no time have we seen anything like the Peking Acrobats. Feats of clowning, dexterity, grace, strength and coordination rippled from the stage in a series of pleasurable waves. One was left waterlogged in wonder."


~ Chicago Tribune



"...For all the skills and tricks, however, it is the special artistry of some of the performers that takes what could be a gymnastic and athletic display into high-class entertainment."


~ New York Times



"...The gasps of amazement said it all...gymnastic display of such awesome pyrotechnics that they knocked the capacity audience on its ear."


~ Anchorage Daily News



"...'A' is for acrobats and astounding, amusing, audacious and accomplished, accurate and attractive and admirable, all of which describe, though not completely, The Peking Acrobats."


~ Variety



"...Nearly everything The Peking Acrobats did last night was amazing - and stunning and breathtaking and WOW!"


~ Seattle Times



"...The Peking Acrobats regularly passed from the seemingly impossible to the virtually unbelievable."


~ Los Angeles Times